Common Browsing Errors / Solutions
Failed to automatically enable the proxy settings in Internet Explorer.
This message occurs when the Juno Turbo installer isn't able to automatically set up your computer to work with Juno Turbo. That means that it will have to be configured manually.
Note: In order for Juno Turbo to work properly, you will need to run Internet Explorer 5.01 or higher. Click here for more information.
To enable the correct proxy settings in Internet Explorer:
Open Internet Explorer.
From the Tools menu, select Internet Options.
In the Internet Properties box that appears, click the Connections tab.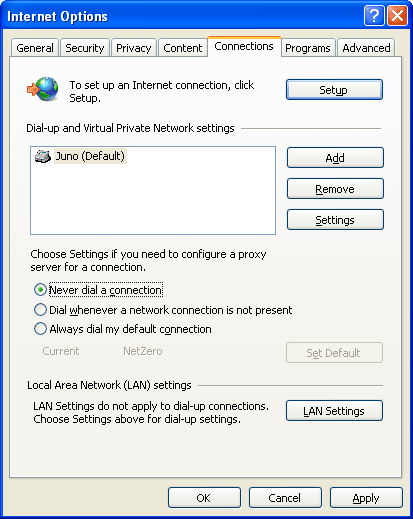 In the Dial-up settings box, highlight Juno and click the Settings... button. A box called Juno Settings will appear.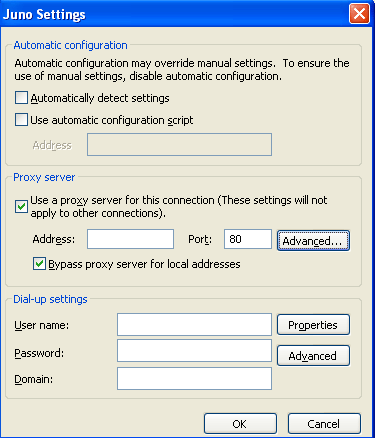 Check the boxes next to Use a proxy server and Bypass proxy servers for local addresses.
Click Advanced...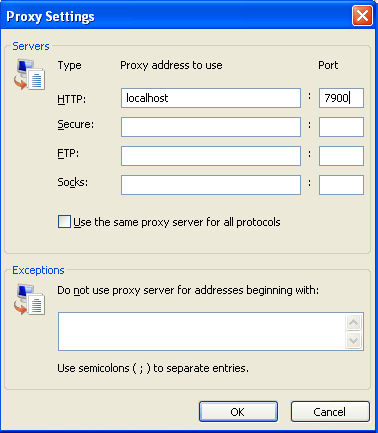 For the Proxy address to use for HTTP: enter localhost.
For the Port for HTTP: enter 7900.
Click OK on each of the three open dialog boxes to close them.
Internet Explorer should now be configured to work with Juno Turbo.
Note: If you are receiving Page cannot be displayed errors after adding the proxy server information, try removing the proxy information entirely and connect again.
If the problem persists, click here for further troubleshooting steps.
---