Common Browsing Errors / Solutions
Microsoft - Internet Explorer
"Graphics or Webpages Do Not Display Properly"
If pictures and/or colors are not displaying properly in your Web browser, it may be related to the Display Adapter. Juno recommends the use of an SVGA monitor at 800x600 screen resolution. Your Display Adapter should support at least 256 colors.
Before trying anything else, verify that problem is not due to losing your connection to the Internet. If you lose your connection, graphics may not have a chance to download to your browser.
If you are having trouble maintaining a stable connection with Juno, please click here for instructions.
A. If your Internet connection is stable, try the following:
Windows XP users:
Click on the Windows Start button.
Point to Settings and select Control Panel.
Double-click the Display icon.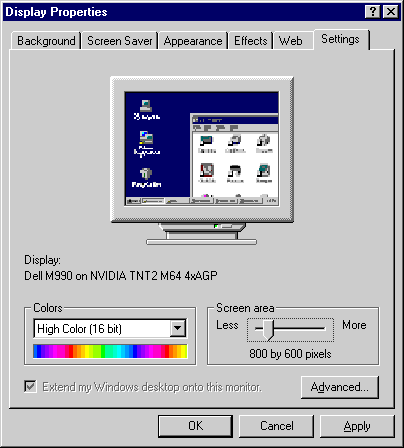 Select the Settings tab.
Select 256 colors or better (such as High Color 16 bit or True Color 32 bit) from the drop down menu called Colors.
Click and hold the left mouse button on the slider bar under Screen Area. Drag it to the right so the screen area is at least 800x600.
Click OK.
You may be prompted to restart your computer before the changes take effect. Click Yes.

Note: If you do not have a Display Adapter that provides the settings listed above, you will need to contact your Computer or Video Card manufacturer to get updated Video Drivers.
B. If pictures do not display in your browser window, you may need to check if the browser settings are correct.
Open Internet Explorer.
From the Tools menu, select Internet Options.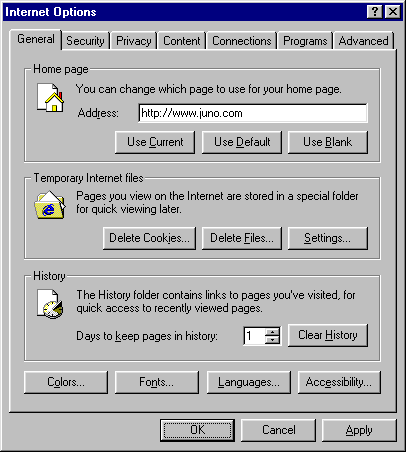 Select the Advanced tab.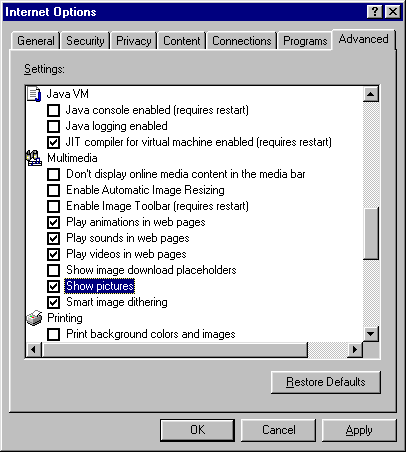 Scroll down to the bottom of the Multimedia section.
Check the box next to Show pictures.
Click OK.
---