Common Connection Errors / Solutions
"The computer is not receiving a response from the modem"

Note: If you are using an external modem, make sure that your modem is turned on and that your computer is connected to the serial / com port of your computer.
On your desktop, double-click the My Computer icon.

Double-click the Dial-Up Networking folder.

Click once on the Juno icon to highlight it.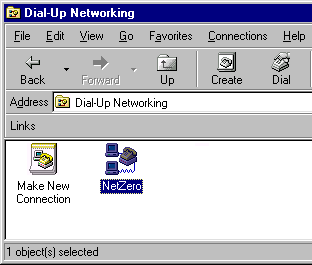 From the File menu, select Properties.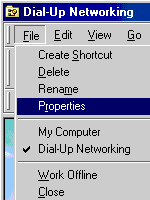 Under Connect using, click on the Configure button.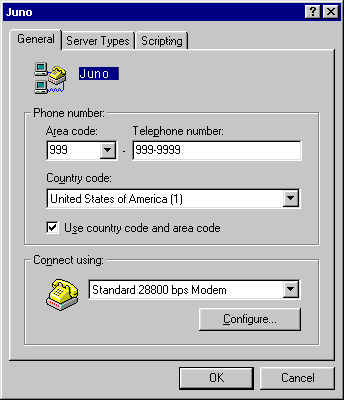 Select the Connection tab.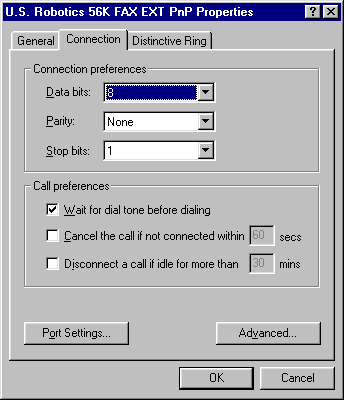 On the lower-right, click on the Advanced button.
If you have it, consult your modem document for an initialization string suitable for PPP or TCP/IP connections.
In the Extra settings field, type the proper initialization string. If you do not have your modem's users manual, try ATZ, AT&F1 or AT&F.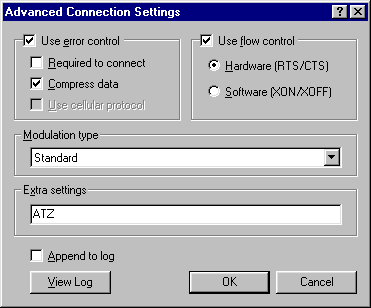 Click OK.
If your dialer can now connect to the Internet, you are able to use your Internet applications (Netscape Navigator, Eudora, AOL, etc.).
If these instructions do not work, check the modem using Hyperterminal with the instructions below.
Check modem using Hyperterminal - Click here for Screen Shots
Click on the Windows Start button.
Point to Programs > Accessories > Communications and select Hyperterminal.
Double-click on the Hypertrm icon.
In the Name text box, type Juno BBS.
Click OK.
In the Area code text box, type 123.
In the Phone number text box, type 4567890.
Click OK.
Click on the Dial button.
If your modem does not dial, then it is not working properly. In this case, you should contact the manufacturer or vendor who sold the modem to you.
---