Common Macintosh Errors / Solutions
"I Can't Complete My Profile"
Following are several reasons why you may be experiencing problems completing your Member Profile. To resolve this issue complete the steps below:
Review all of the pages to ensure that you have completed all the required fields.
Remember that your Member ID must be between 3 and 30 characters in length and your password must be between 3 and 12 characters.
Your Member ID cannot begin with a number.
Your Member ID must be alphanumeric. You cannot use symbols or special characters (examples: ! # $ % & * _ - ).
If you are trying to use a Member ID that has already been registered to another user, you will prompted to select another.
If you have completed your profile, checked that none of the previous scenarios apply, but continue to be prompted to update your profile, please follow the steps below to resolve the issue:
Click on the Options button on the Platinum Toolbar.
From the Pop-Up Menu, select Profile.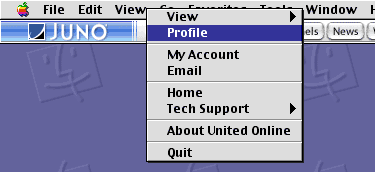 Change one item in your profile (check or uncheck a box), then continue through the entire profile to the end.
Submit your profile when you are finished. You should not be prompted to complete your profile the next time you log on.
---