Connection Options - Juno
Note: This page applies to Mac users only.
To access the Connection Options screen, click Change on the Juno logon screen.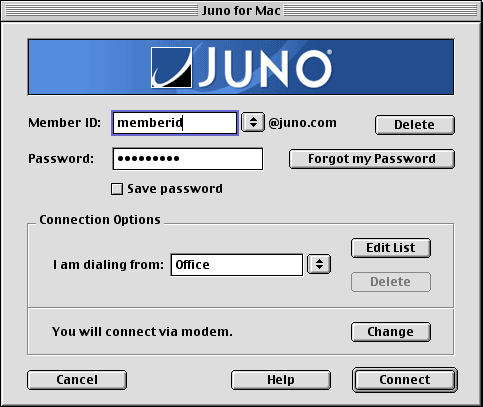 Connect Settings
There are two ways to connect to Juno. The most common way our users connect is via a dial-up modem connection. To connect to Juno via a modem, ensure that the Use modem box is checked in the Connect Settings section.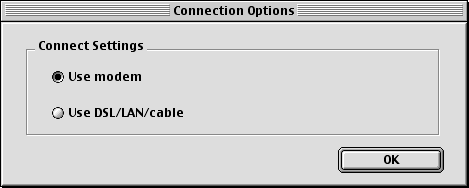 If you have DSL, cable or are currently using a LAN connection, you may also connect to Juno through your existing Internet connection. Just follow the simple steps below.
Select the option to Use DSL/LAN/cable.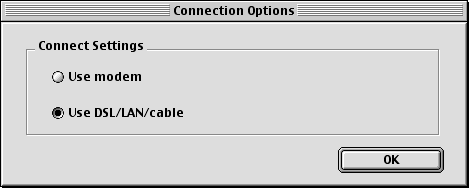 Note: When the DSL/LAN/cable option is selected, the other items on this page will be grayed out, as they do not apply to DSL/LAN/cable connections.
Click OK to return to the logon screen.
Ensure that your MemberID is selected and you have entered your password. Once this is done, click Connect.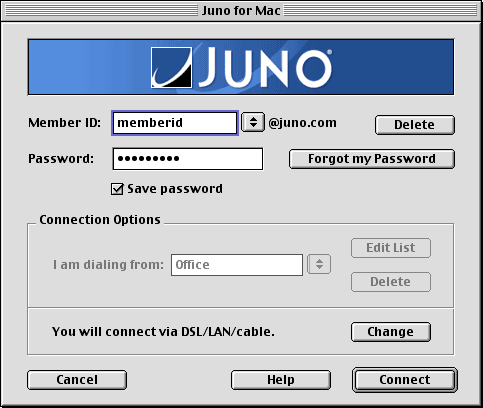 You will be connected to Juno through your other Internet connection.

Note: When connected to Juno through this option, you will be able to receive your Juno email but may not be able to send it. For more information, click here.
---