How to Install Juno Platinum for Macintosh
Note: This page applies to Mac OS 9 users only. To see OS X instructions, please change the operating system toggle on the left, or try viewing this page on a Mac OS X system.
After downloading the Juno.sit file, double click it to extract the installer.

The stuffit file will expand into the Juno installer file, called Juno OS9. Double click this file to begin the installation process and start the Juno software.

The Easy Install screen will appear. Click Install to install the Juno software to your hard drive.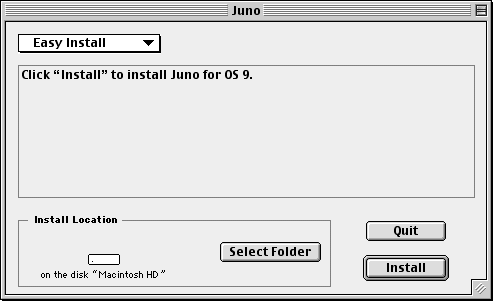 Wait for the process to complete.

Once Juno is finishedinstalling, you will be asked if you would like an alias created on the desktop. This makes it easier to launch the Juno software from your desktop,so we suggest clicking Yes.

Once you get an Installation Successful message, click Quit.
Juno will launch automatically.
To run Juno in the future, double-click the Juno icon on your desktop. If you did not create an alias, the Juno application should be placed in the first level of your Macintosh HD.

---
When you're ready click the "Install Juno Now!" button to get started.



---
Paid Dialup
Platinum provides banner free, unlimited Internet connection, with more local access numbers than is available to Free members, while Juno Turbo provides the fastest dial-up connection available - up to 5x faster than standard dial-up and free Norton AntiVirus and MegaMail. Click here to try it for free!
---
Norton products
An infected computer is often slower and more prone to errors and crashes. Norton offers three levels of protection:
Norton AntiVirus protects your computer against infection from online threats like worms, viruses, spyware, Trojan horses and more.
Norton Internet Security provides all the features of Norton AntiVirus plus protection against phishing scams, hackers, and identity theft, as well as Parental Controls to help keep your family safe.
Norton 360 is the ultimate in PC safety. Norton 360 to protects your PC against online threats (including viruses, phishing, and identity theft), optimizes your system for peak performance, and protects your files with automated backup.
Click here for more information and to get a free trial