Deleting Folders
Note:If you're using Juno's new Message Center, please
click here
.
If you want to delete a folder you created in Email on the Web, follow the instructions below:
Click the Email Features link within Email on the Web.
Click the Create and Edit Folders link.
The Email Features: Create and Edit Folders screen will appear.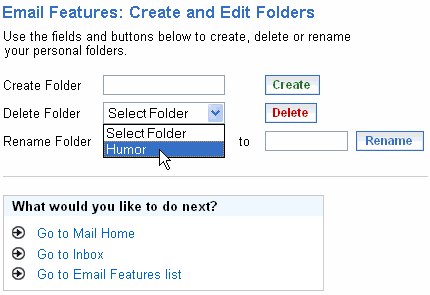 Next to Delete Folder, click the dropdown menu to select the folder you want to remove.
Click Delete to erase the folder.

Note to Platinum Members: If you try to delete a folder that has an active Sort & Delete Setting associated with it, you will get a warning screen telling you that the Sort & Delete Setting will now send new email to your Inbox. Click OK to proceed with the renaming, or Cancel to cancel the process.

You will need to edit your 'Sort & Delete Setting' to re-direct mail to a new folder other than the Inbox. For instructions on how to edit Sort & Delete Settings, click here. You can also set up how mail is sorted into these folders with Sort & Delete Settings which are available with a Juno Turbo, Platinum or MegaMail account. Click here to upgrade your existing account.
Your created folder will now be removed from the list of folders at the top of the screen.
Note: If you delete a folder with messages in it, all the messages from that folder will be moved to the Trash folder. All messages left in the Trash folder after you log out of Email on the Web will be permanently erased. To save messages from this fate, you can always take messages out of the Trash folder and move them to your Inbox, or another folder you created. This does not include the Sent or Draft folders.
For instructions on how to do this, see the page discussing how to move messages to different folders.
---
---