Renaming Folders
Note:If you're using Juno's new Message Center, please
click here
.
If you don't like the name of one of your created Email on the Web folders, it's easy to rename it:
Click the Email Features link within Email on the Web.
Click the Create and Edit Folders link.
The Email Features: Create and Edit Folders screen will appear.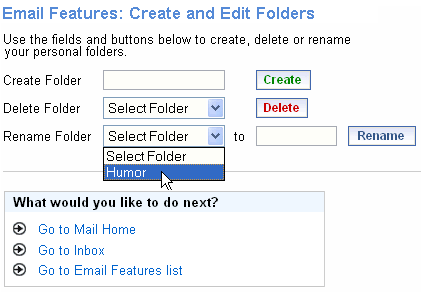 Next to Rename Folder, click the dropdown menu to select the folder you want to rename.

In the to box, type what you want to change the folder name to.
Click Rename to rename the folder.
Note to Platinum Members: If you try to rename a folder that has an active Sort & Delete Setting associated with it, you will get a warning screen telling you that the Sort & Delete Setting will now send new email to your Inbox. Click OK to proceed with the renaming, or Cancel to cancel the process.

You will need to edit your Sort & Delete Setting to re-direct mail to the newly renamed folder. For instructions on how to edit Sort & Delete Settings, click here.
Your new folder name will now appear among the rest of the folders at the top of the screen.
Note: You can only rename folders you created. The Inbox, Junk Mail, Sent, Trash, and Draft folders cannot be renamed.
---
---