How do I use the filters?
You can use Filters to help sort through your email messages. By default, the filter is set to All Messages, meaning all of the emails in your Inbox are displayed (read and unread, etc).
To Sort your messages, click on the small down arrow to the right of All Messages at the top of your message list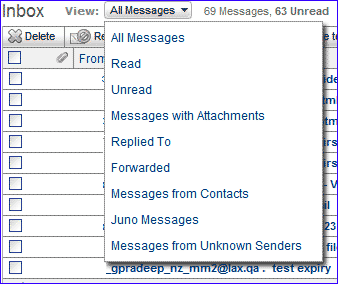 Select Read to view all the read messages.
Select Unread to bring all the unread messages to the front.
Select Messages with Attachments to bring the messages that has attachments to the front.
Select Replied To to view the messages that have been replied.
Select Forwarded to view the messages that have been forwarded.
Select Messages from Contacts to view the messages sent by the persons in the Address Book.
Select Juno Messages to view all the messages sent by Juno.
Select Messages from Unknown Senders to view the messages from other senders.
---
---