About Juno Email on the Web
Click here to access Email on the Web.
With Email on the Web, you can read and write your Juno email from any Internet-connected computer in the world.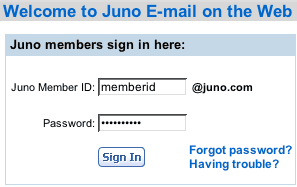 Quick and Easy
To get started, just click the Sign in button after you've entered your Juno Member ID and password. Once you've logged in, you'll find your new email messages in your Inbox, a place to compose and send new messages, and an online address book.
Help - I'm New to Email on the Web
The most important thing to know is that there is only one Juno email system, and two different ways to access it. You can always check your mail on your home computer using an email program (such as Eudora or Mac Mail) in conjunction with your Juno software. Alternatively, Email on the Weballows you to access your email when you're away from home. Whether you're at work, on vacation, or anywhere else with an Internet-connected computer, your email address is the same and your account is always accessible.
Please understand that a dedicated email program, in conjunction with the Juno software, is still the best way to read and write your Juno email. Programs like Eudora or Mac Mail are faster, fully-featured, and have practically unlimited storage capabilities. Unlike Email on the Web, you can use an email program to read and write your email without being connected to the Internet.
Juno Email on the Webis offered as a convenience so that you can send and receive mail when you are away from home. You don't have to worry about losing or missing mail. All your mail goes to Juno's central system, and it can be accessed at any time with either an email program connected to the Juno software, or Email on the Web.
Here's more about Email on the Web:
There's no additional cost to use Email on the Web. The service is free.
You can use Email on the Webwith either Internet Explorer or Netscape browsers.
All mail in the Trash and Drafts folders will be regularly deleted.
Some Helpful Hints
All mails left in your Inbox at the end of an Email on the Websession will remain there until you check your mail with an email program and the Juno software. At that point, all mails in your Inbox will be downloaded to your home computer and will no longer appear in your Email on the WebInbox. Only new mail will appear in your Email on the WebInbox.
Tips for Getting Started
Juno's Message Center also has some tips to help you get familiar with the features. You'll see these the first time you use Message Center, but you can view them any time you like.
Sign in into Juno's Message Center.
Click on the Help drop-down and select Tips for Getting Started.
Click Continue to see tips on.

Reading, Writing and Searching your email.
Managing your folders.
Navigating the Message Center.
Searching the Web.
Setting Options.
You can navigate the tips by clicking on the Next or Previous arrow buttons. You can also jump to a specific tool-tip by clicking one of the bubbles shown at the bottom of each tip box.
Once you are ready to use Juno's Message Center, click Get Started.
---
---