Common Macintosh Errors / Solutions

Error 629: Port disconnected by the remote computer

This page applies to Mac OS 9 users only.

If you are getting an error says "Port disconnected by the remote computer," try the following:
---
A. Change access numbers
Sometimes certain access numbers are not as compatible with your modem as others may be. Try using an alternate access number, if one is available. For instructions on how to change access numbers, click here.
For a list of available access numbers, click here.

Important: Contact your local phone company to ensure the access number is local.
---
B. Verify your modem settings
If your modem is not configured correctly, Juno will not function properly. To verify that your modem configuration is correct, please complete the following steps:
Go to the Apple Menu, select Control Panels and choose Modem.
In the Modem window, choose your modem from dropdown menu (Such as Apple Internal 56K Modem)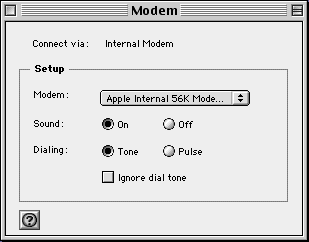 Change the Sound and Dialing preferences as needed.
Make sure the box next to Ignore dial tone is NOT checked.
Go to the File menu and select Quit. If you are asked to save your changes, click Yes.
---