Download the latest Juno Phonelist - Updated 07/21/2009
Note: This page applies to Windows 95/98/ME/NT only.
The Juno phone list is updated every time you connect to Juno. If you haven't connected in a while or if you installed Juno using an older version of the software, then you probably do not have an updated phone list. The latest Juno phone list may include new access numbers and exclude numbers that have been decommissioned. Having an updated phone list will help ensure a successful connection to Juno.
Please follow the instructions below to download and install the latest Juno phonelist and get online with Juno.
To ensure that your Juno software is up to date, you will need the latest version of our phonelist.
Click here to update your phonelist.
Once the File Download dialog box appears, select the option to Run this program from its current location and click OK.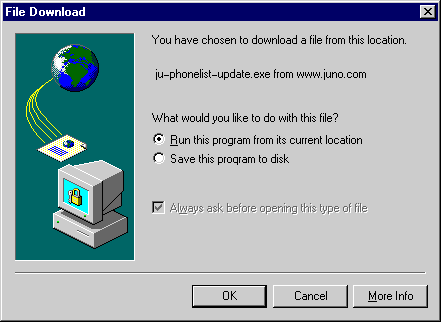 The Phonelist Update Setup screen will appear. Make sure the correct folder where you installed Juno is in the box. If it is not, click the Browse... button and select the correct folder.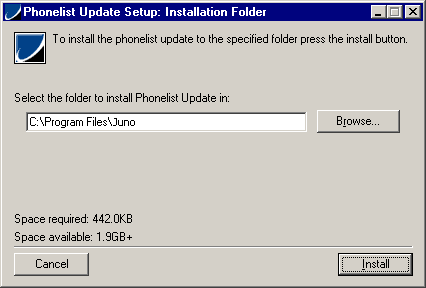 To install the phonelist update, click Install. To cancel the process, click Cancel.
Once you've installed the phone list, click here for instructions on how to select a new access number.
---