Am I Online?
When you successfully connect with the Juno software, the following three things will happen:
A network icon will appear in the taskbar in the lower right-hand corner of your screen and the picture of the two little computers will start to blink. This means that you are online and communicating with our system.
Your default Web browser will open and load the My Juno start page.
The JunoPort or Juno Platinum Companion will dock at the top or bottom of your screen.
If your computer is not connecting properly or if you are receiving an error message, click here to go to our connection troubleshooting page.
If you are still having trouble connecting, try the steps below.
Check if Your Computer is Communicating with Your Modem
Click on the Windows Start button.
Point to Settings and select Control Panel.

Double-click the Modems icon.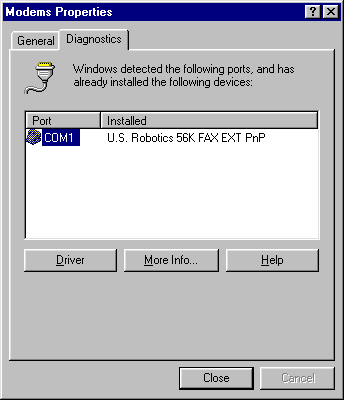 Select the Diagnostics tab.
Click once on your modem to select it.
Click on the More Info button. The following window will appear.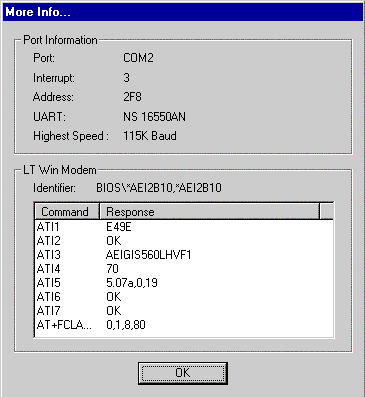 If there is data in the Command & Response window, your computer and modem are communicating.
Click OK to exit.

Note: If there is no data in the Command & Response window, then the modem is not installed properly. You will need to verify that you are using the correct drivers and/or using the correct modem configurations (COM and IRQ settings) by contacting the modem manufacturer or by visiting their web site.
Is my modem dialing out properly?
If you still cannot connect successfully, check to see if your modem is dialing out properly by completing the following steps:
Click on the Windows Start button.
Point to Programs > Accessories > Communications and select Hyperterminal.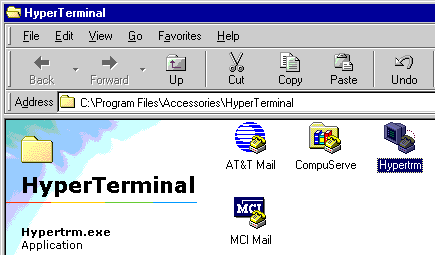 Double-click on the Hypertrm icon.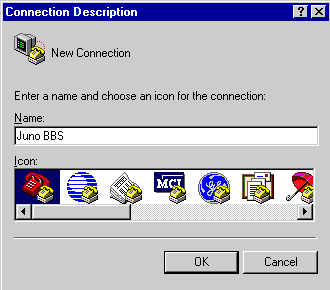 In the Name text box, type Juno BBS.
Click OK.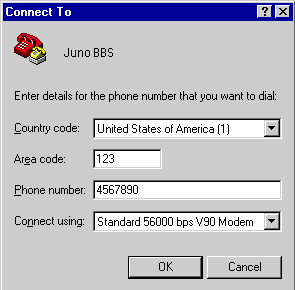 In the Area code text box, type 123.
In the Phone number text box, type 4567890.
Click OK.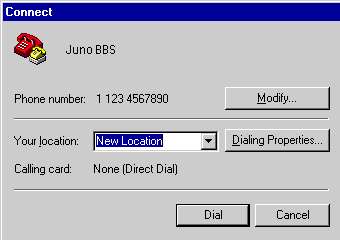 Click on the Dial button.
If your modem does not successfully dial, you need to contact the modem manufacturer or vendor.
---