Setting up Juno for the first time
Double-click the Juno icon on your desktop and select whether you want to Create a new account or Sign in to your existing account.
Note: If you are subscribed to Juno's Toll-Free service please skip to step 6.
Next, choose how you'll connect to the Internet. If you will connect by modem, select Use Juno Dial-up Internet Access. Check the boxes to select whether to mute your modem, automatically connect when you start your computer, and have Juno redial if you are disconnected. Click Continue when done (if you already have a high-speed Internet service and want to connect to Juno using a DSL, cable or a LAN connection, click the circle next to Use Another Connection and click Finish).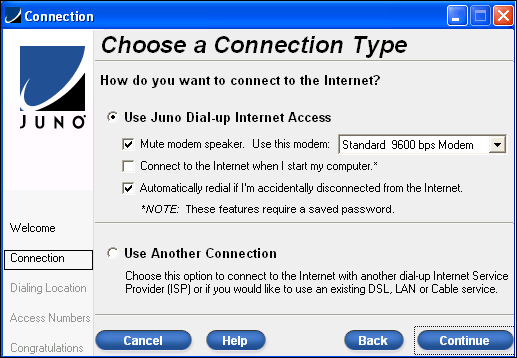 Type the area code and phone number from where you'll be dialing in the Set Up a Dialing Location screen. Then type in a name for your dialing location (the default name is Home). If you have Call Waiting and want to disable it, click Yes next to Do you want to disable call waiting? If you need If you need to dial a number to reach an outside line, click the circle next to Yes for Question 4. and input the number (i.e. 8 or 9). To set up advanced dialing rules, click Advanced and add the appropriate dialing preference(s). Click Continue when done.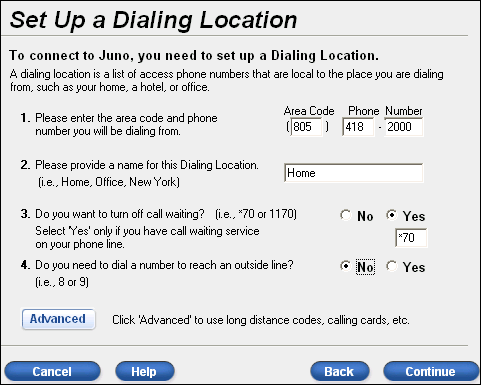 The Juno software will now dial an 800 number to get the latest access numbers, and the Select Access Numbers screen will open, showing a list of access numbers local to you. If you would like to view the access numbers for another area code, select the appropriate area code from the drop-down menu next to View access numbers for another area code. Check the boxes next to the access numbers you want to use, and check the boxes if you need to dial a 1 or the area code. Click Continue when finished.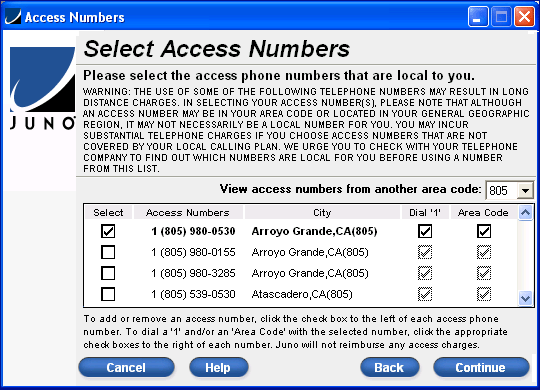 Please check with your telephone company to confirm that under your calling plan the chosen access numbers will not result in additional charges. You are solely responsible for all telephone charges related to accessing our services and Juno will not reimburse you for any such charges, including long distance or toll charges.
If you need to make any changes, click Back. Otherwise, click Connect to log on to Juno.
To connect to Juno in the future, just double-click the desktop icon and click Connect.